Norway's pension fund may withdraw investment from a coal plant to be built with Indian partner on the edge of Sundarbans mangrove forest, citing threat of severe environmental damage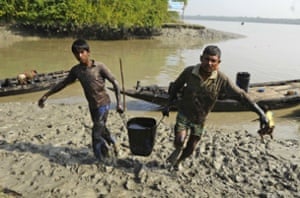 Villagers carrying oil removed from the river surface in Joymani village, Sundarbans, Bangladesh. Photograph: AP
The massive 1,320 megawatt Rampal thermal plant would sit on the edge of Sundarbans, the world's largest mangrove forest, in Bangladesh. For more than two years, citizens, artists, and social and environmental activists protested plans to build this plant close to a forest that is a United Nations Educational, Scientific and Cultural Organisation's world heritage site as well as a Ramsar wetland site.
In September 2013, about 20,000 people marched for five days
from Dhaka to Dighraj. 'The long march' covered a distance of nearly 250 miles, to demand the scrapping of the power plant.
The $1.2bn project is a joint venture between India's national thermal power corporation and Bangladesh's power development board. Environmentalists allege the plant will not only pollute the mangrove forest, but emissions from burning coal will contribute to climate change. Low-lying Bangladesh, said to be one of the most vulnerable countries in the world, is threatened by rising sea levels, but many of its citizens have no access to electricity. The government seeks to produce 20,000 megawatts of cheap coal-fired power by the year 2021. But 50% of power generated by Rampal is destined for India, while Bangladesh's citizens and environment are expected to bear the brunt of it.
Update: The fund has withdrawn money not just in NTPC, but also other coal-based Indian companies.